We are proud to announce the joining of Great Lakes International Film Festival and Directors Circle Festival of Shorts. We have decided to combine our two international festivals in an effort to increase the exposure and overall benefits to the independent filmmaker.
For all those filmmakers who grew to trust the Directors Circle Festival of Shorts, please know that not only will we earn your trust and support by offering at least the same, if not a higher level of quality and service that you have come to not expect but demand from a film festival.
We would like to welcome all those filmmakers who may have been looking for Directors Circle and hope that you find the Great Lakes International Film Festival as a great opportunity to screen your film.
Click the image to find out why our Festival does not participate with Withoutabox.com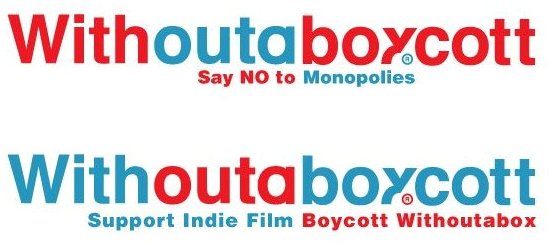 To Read an Article by IndieWire.com, One of the World's Leading News and Information Sources for the Independent Film Community, Detailing the Unfair and Nearly Fraudulent Business Practices of Withoutabox Please Click Here
2013 Call for Entries
2013 Film Festival Fees, Deadlines, and Rules

Considered among the top 100 most popular film festivals in the world, the 12th annual Great Lakes International Film Festival has officially opened its Call for Entries for the 2013 Festival, which will be showcasing the best works of emerging and veteran filmmakers.
For our 2013 season, we are accepting submissions internationally of feature length and short length films in the genres of Documentary, Experimental, Religious/Spiritual, Animation, Comedy, Horror, with Horror sub-genres that include Supernatural, Thrillers, Wicken, Magical, Slashers, Science Fiction, Suspense, Horror Documentary, Horror Animation and all genres of Music Videos and GLBT films for the 2013 festival.
If there is anything as universal as the ageless storytelling of motion pictures, it's the music that makes up life's soundtrack.
The 2013 Great Lakes International Film Festival shall accept Music Videos from around the world of cross-continent and cross-genre productions. We shall accept Music Videos of all genres from Pop, Punk, Rock, Alt-Country, Country-Western, Folk, Reggae, Hip-Hop to Electronica, Jazz, Blues, Zydeco, Industrial, Metal, Hardcore, Gothic, Karaoke, Avant-Garde, World Music, and Experimental.
The 2013 Great Lakes International Film Festival will accept all forms of Religious, Christian, and Spiritual films including African, African-American, GLBT, Black, Hispanic, Islamic, Latino, Native/Aboriginal and student films from the United States and around the world.
Showcasing the best films of the 2013 season, the Great Lakes International Film Festival will be held LIVE in the great city of Erie Pennsylvania in September 2013, with our online festival taking place September 19th thru September 30th, 2013.
Over the years, we have had many films that have screened on the Sundance Channel, IFC, PBS and HBO along with countless filmmakers who have received distribution deals after screening in our festival.
For the filmmaker that is looking for a bit more, the Great Lakes International Film Festival is also a great place to get your film noticed. In October of 2004 we were proud to present the North East United States Premiere of "SAW", Lions Gate Films' gripping psychological thriller starring Cary Elwes, Danny Glover, Monica Potter and Leigh Whannel, and with "The Collector of Bedford Street" having been nominated for an Academy Award after being screened at our 2002 fest, we certainly bring the best and the brightest to the shores of Erie, Pa.
We have also been host to such filmmakers and special guests as actor/director/producer Dirk Benedict (Battlestar Galacticaand A-Team); writer Erick Rodgers (Writer of NYPD Blue); director/producer Harri James (script supervisor "Alias", Tremors II: Aftershocks, Tremors 4: The Legend Begins); producer Otto Felix ("B.J. and the Bear" & Up in Smoke); award-winning, best-selling mystery author Jamian Snow (Shrouded Insanity); actor/writer/producer Bill Hinzman (Flesheater & Night of the Living Dead); director Lloyd Kaufman (Toxic Avenger films, Pot Zombies, & President of Troma Films); actor Gunnar Hansen (Texas Chainsaw Massacre); actor/ director Mark Borchardt (American Movie & Coven); director John Hancock ("Hill Street Blues", "The Twilight Zone", & California Dreaming); actress Debbie Rochon "Scream Queen" (Blood Relic, Vampyre Tales, & Lord of the Undead); producer/director Bobby Logan (Meatballs 4 & Repossessed); Joel Miller; WWE and ECW wrestling superstar The Blue Meanie, and in 2002 we had the unique opportunity to present Keith Carradine with a special award for artistic excellence, award-winning director Joone, award-winning actress Jesse Jane, and local actress Marie Madison.
The legendary Terry Moore who was our special guest of honor in 2006 was presented with a lifetime Achievement Award for her amazing accomplishments in film over the past 60 years.
From the feature narrative genre to documentary to animation; experimental, horror and Spiritual films, the Great Lakes International Film Festival celebrates the film arts in dynamic transition. As emerging technologies continue to redefine the form, filmmakers from the Great Lakes region, across the country and around the world express the common and the diverse through the age-old tradition. — The art of the story.
2013 Film Festival Fees, Deadlines, and Rules